From now until New Year's day, the POV Blog will be posting about great documentaries from the POV archives. Rent one at the local video store or via Netflix to watch with your friends and family during the holiday season.
The Sweetest Sound by Alan Berliner (POV 2001)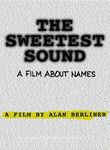 What's in a name? Alan Berliner — whose films, including Nobody's Business and Wide Awake, have always focused on his own family and identity — tackles the subject of his own name in The Sweetest Sound. Over the years, he'd seen a plethora of Alan, Alain and Allen Berliners. There's even another filmmaker — a Belgian who made Ma Vie en Rose — named Alain Berliner!
Our Alan, the "original" Alan, goes on a quest to discover the power and mystery of names in the film. Along the way, he takes a look at the historical origin of names, their social roles and the way names were changed for American immigrants. He also invites a dozen Alan Berliners to his home for a dinner party, in hopes of learning what they all share in common.
We all have a unique bond to our names, and to me, it's fascinating to watch someone else's relationship to his name in The Sweetest Sound. While Berliner found the world full of other Alan Berliners, I've never met anyone else with my name. Since the dawn of Google, I have — at times — wished that my name was "Jane Smith" or "Jennifer Lee." I like my rather unique name, but I have no name-dopplegangers to hide behind, and my name will never allow me to fade into electronic anonymity. Berliner's meditation on identity is smart and entertaining, and will have you and your family talking about your own names and heading to the computer to see who else shares them.
Incidentally, POV's website for The Sweetest Sound spawned one of our most popular features ever: Find out how common your last name is in America in the Last Name Popularity Index. I was surprised to find out that my last name, Xu, a very common name in China, was ranked as high as 4,838 in America. Can you the guess what the top ten last names in America are?